Get in your PJs, grab some snacks because you and I are going to read a really long post!
Although it's nothing less than a hangout (or a party on some days) working here at BiM, the sound of a time-out or a lunch got us all very excited. Particularly to me as someone who just joined the company and who is still getting the hang of everything, especially the 'traditions'. Girls planning with their friends what they should wear, sending each other the pictures of their dresses so their friends would make their jobs easier, some anticipating promotions and important announcements, it was all very interesting to spectate.
It was the last day of the year, Friday, 31st of December when we were invited to the BiM Annual Lunch at The Defence Revelation. It was a working day with a ton of work to take care of, before and after lunch hence everyone planned their day accordingly.
And so it began.
Everyone started arriving at the venue looking like a million bucks, guys looking dapper and girls all dolled up. It was very well coordinated, everyone sort of knew they had to get their portraits made before they could find a nice spot to settle, and it became a nice little activity. Nearly 756 pictures later, we were all ready to hear a few important announcements. Little did I know I was going to witness some of the most wholesome moments of my (short so far but wonderful) journey at BiM.
The announcements started with Azeemi's heart to heart with the whole team. We were reminded why each one of us is here, followed by his words about this young, capable, exceptionally self-aware man who had put a hold on the offer of being the CEO of this company because according to him, he wasn't ready yet. But he is now, and so, Nabeel, our very own Nabman, is now our new CEO (Chief Executive Officer). A guy who most definitely deserves to be where he is, not only is he exceptionally dedicated and insanely skilled, Nabeel is also one of the most down-to-earth people (and now BOSS) I have ever come across (Imnotcryingyourecyring)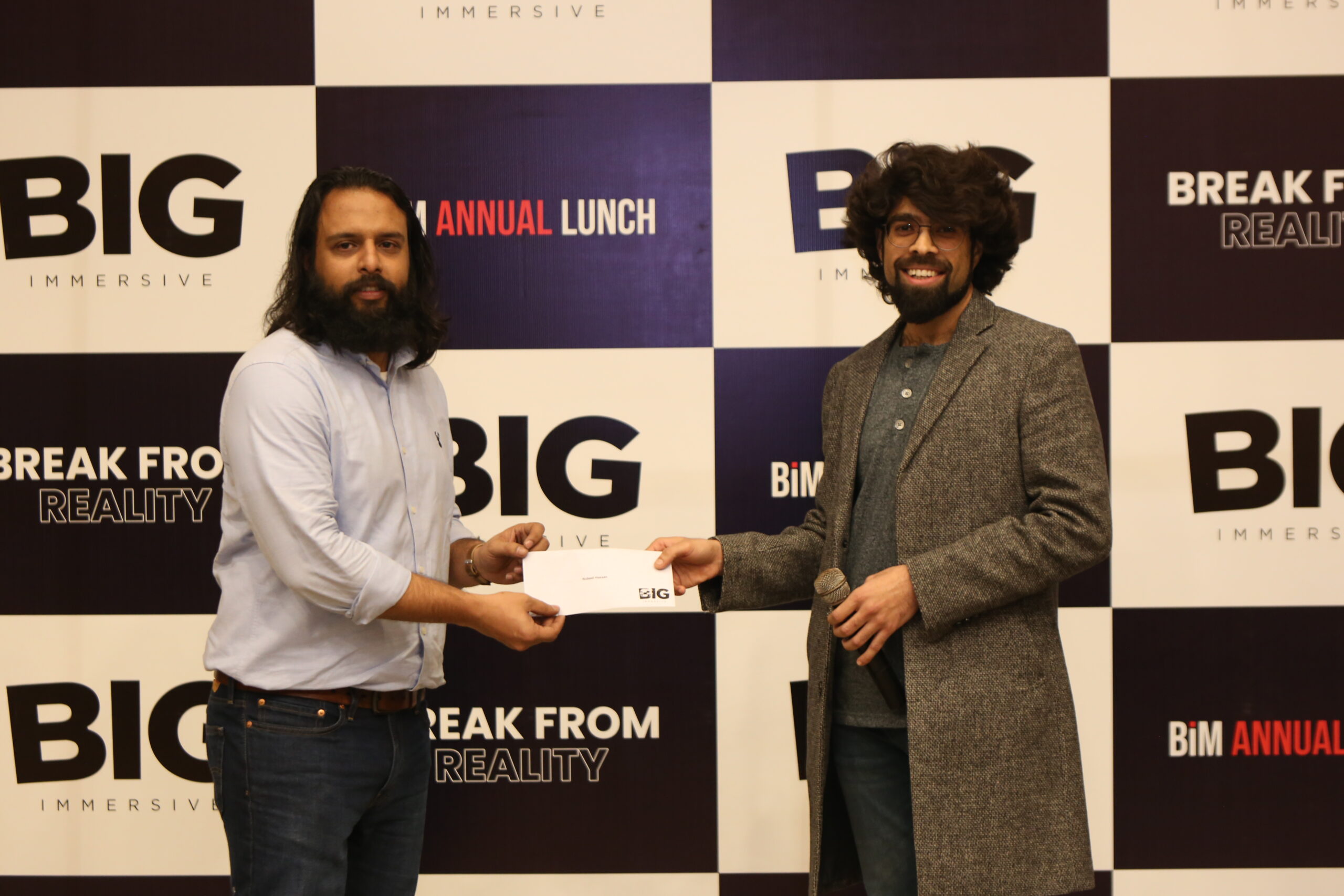 The announcements continued and here comes another wholesome moment which I'm glad I was here to witness, Rafeh Rauf was awarded the title of COO (Chief Operating Officer) of Big Immersive.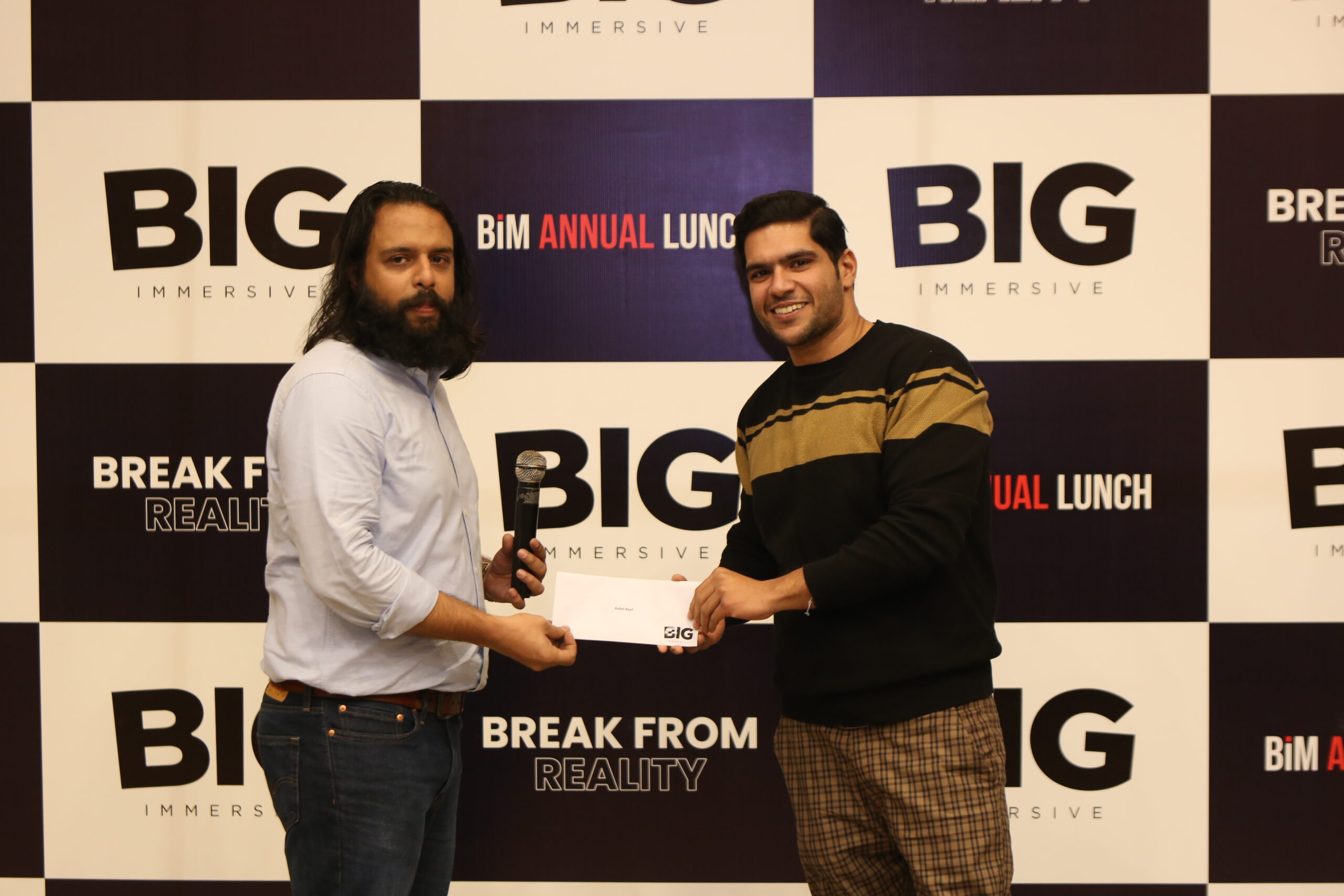 And it doesn't end here, Asad Shams, became the CCO (Chief Creative Officer) of the company and I kid you not, only two months in the company, and I had goosebumps!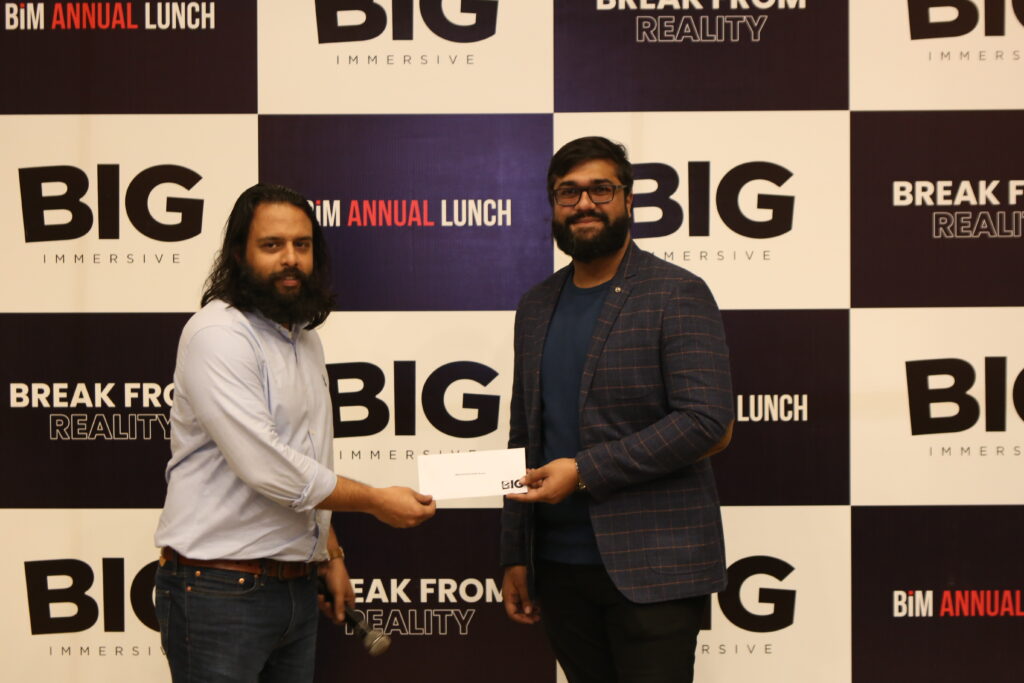 These announcements were followed by the distribution of yearly bonuses and some very well-deserved promotions which went as follows:
Mashhood ur Rehman (aka Mushi aka Production DJ) Head of QA
Miqdam ul Ghani (aka Mikki) Team Lead 2D Arts
Abdul Hayyee Team Lead 3D Arts
Rehman Raza (aka R2) Team Lead 3D Animation
Umer Saeed Project manager
Ramail Amjad Sr. Producer
Hassan Tahir Sr. SQA Engineer
Mughees Ahmad (aka Muggii) Customer Operation Manager
Rasham Ayaz Texture Artist
Warda Rashid Khan (aka Wanda aka Penguin) Producer
Maheen Sajjad Associate Producer
It's no surprise that everyone has worked really hard to get here and their efforts and hard work were acknowledged by the company, and rightfully so, the sense of ownership in the people working at BiM is refreshing (and insane).
Right after the distribution of bonuses and other announcements, it was time for lunch and with that, this memorable soiree came to an end.
Since it was still our working day with still a lot to do, when we got back to BiM after the annual lunch, everyone was back at their workstations, back to the grind!
Facebook Notice for EU! You need to login to view and post FB Comments!