The best thing about virtual reality is that there are no limits. If you can think of it, somebody's already working on it in VR. Even though current headsets are far from being perfect, it hasn't stopped people from coming up with seemingly crazy ideas for them. One of these ideas is an underwater VR headset.
From the very start, underwater headsets have created a splash in virtual waters. Both literally and figuratively. The first prototype was essentially a Google Cardboard headset and a waterproof phone that used water as part of working distance. Just a year later, credits to research of MacNeilage, it has been turned to a sleek looking scuba set with a 3D printed plastic box replacing the mask visor.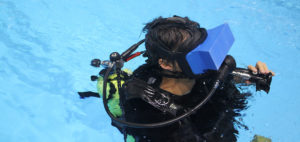 VR locomotion and vection go hand in hand and it is one of the biggest issues of virtual reality right now. But good news is that vection doesn't act the same in water as it does on ground. Underwater VR can give you a sense of zero gravity and simulate experiences with reduced chances of motion sickness. As Director of Creative Development at DDN says:
"I think there's a little more of a suspension of disbelief when you're in a radically different environment. When you don't have a sense of the ground or gravity or what's up or what's down, it makes it that much more believable."
One of the applications of underwater VR headsets is expected to train astronauts by creating a jetpack locomotion experience as close to real life as possible. Simulating experiences such as being detached from a tether and then navigating back to specified destination in virtual reality can be of huge consequences for astronaut training. However, the applications are not limited to training alone. There's a whole new field that's been leveled up with rapid developments being done to make underwater headsets a working idea.
There's no set prediction about how far research and development into underwater headset will take us. But it can definitely create some interesting experiences in large-scale installments at beach or even at pools. In any case, underwater experiences are bound to create a greater sense of immersion that tricks your brain into believing that you are actually moving through space in virtual reality.
Facebook Notice for EU! You need to login to view and post FB Comments!