Terra Virtua: The Future of VR
Terra Virtua is the first fully immersive virtual reality and augmented reality entertainment platform. The highly anticipated gaming and entertainment platform has shown great potential to transform the future of VR landscape. It has fused the very best of augmented and virtual reality entertainment with blockchain based economy, creating a fascinating opportunity for a global audience. If you've seen Ready Player One and the concept of OASIS intrigued you then you can begin to understand what Terra Virtua stands for. Terra Virtua will unlock limitless opportunities to a beautiful virtual world, characterized by a virtual currency that will hold a key economic value in the digital world.
"Games in VR are amazing. Social experiences in VR are amazing. With Terra Virtua we are fusing the very best of VR and AR entertainment with the TVT token economy, providing a fantastic opportunity for those looking to contribute to the evolution of the platform as well as those looking to market their digital products and services to a global audience in a global financial ecosystem."

~ Gary Bracey, CEO of Terra Virtua
Worldwide Virtual Goods Exchange
Worldwide Asset eXchange (WAX) boasts of a decentralized virtual goods marketplace, encouraging users to buy assets with a global token. You must've heard of online power sellers like Amazon, Airbnb, Uber and Alibaba. WAX uses a similar approach to modern marketplaces and allows a new generation of digital assets traders to buy and sell virtual goods effortlessly.
WAX offers a fully functioning virtual marketplace that requires no investment into settlement, infrastructure or security. Developed by world's leading marketplace, OPSkins, WAX offers a platform that serves the 400+ million existing online players who already indulge in buying, selling and collecting digital assets. If you've ever dabbled in cards collection, this is going to pique your interest to a whole new level.
WAX OPSkins: Refuge from Scamming
OPSkins began as an online marketplace that dealt in buying and selling of gun skins used in virtual video games. Two young gamers developed this marketplace to create a platform for all the players to trade, collect, buy and sell their virtual weapons without getting scammed.
"People used to sell their guns directly on forums. The buyer would pay via PayPal, but afterwards, would charge back as soon as he got his item. So people who sold the weapon were getting scammed. The community wasn't happy about it, so we tried to find a solution."

~ Minacov, Co-Founder OPSkins
In only a few years, OPSkins has moved beyond exclusive gun skins to a variety of categories, ranging from VGO, shoes, apparel, electronics, stickers, digital art, collectible cards and many more. Just recently they have launched WAX explorer that lets you view all tradable items in 3D, including Cryptokitties and VGO skins. Any blockchain-based item listed on OPSkins can be viewed on the WAX Explorer.
Remember when Pokémon Cards were a thing and you bought an insane amount of them to complete your collection? If you were anything like me, you would've collected the rare ones and then sold/ traded them with your friends. For a profit of course. This is basically how WAX digital collectibles work. You can buy any item listed on the site and choose to hoard it, sell it or start a collection, it's up to you. Just create an account on OPSkins and start trading.
Digital Collectibles & Blockchain
Digital collectibles are becoming a thing now, most famous example being CryptoKitties as they managed to appeal to a lot of people with its simplicity and cute art style. Some of these digital kittens have been sold for hundreds of thousands of dollars, pointing towards a new era of virtual collectibles – Non Fungible Tokens (NFTs). An NFT is basically a piece of unique digital content, that has a fixed number and can be owned, bought, sold, and traded by someone. One of the many awesome things that have been enabled by blockchain include digital collectibles such as NFTs, which couldn't be done before blockchain emerged.
Quirky Stickers As Virtual Collectibles

Just recently Terra Virtua has released a fun line of stickers that are listed on WAX OPSkins. You can check out all the cool stickers that introduce an amusing and quirky side to your favorite animals.
Ever seen a sheep having fun? El Sheepo's got it covered. Want to see a fox with an attitude? Take a peek at Epic Fails. Bet you'd love to see a gorilla not taking 'No' for an answer!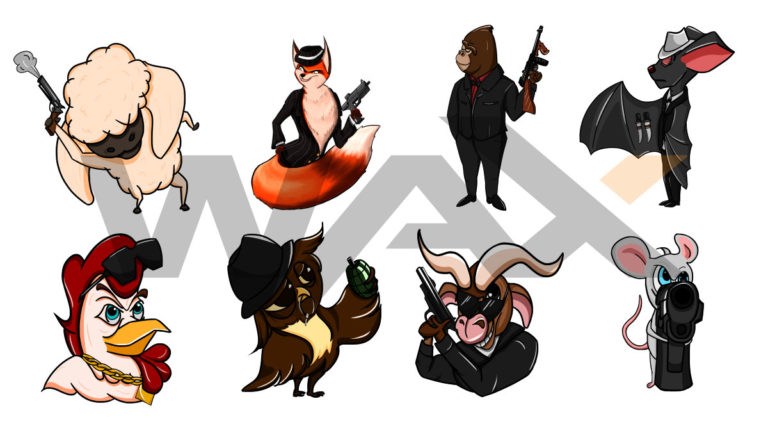 Get your fill of all these amazing stickers here.
Most people in the real world are no stranger to collecting items they think are valuable, such as baseball cards. With the help of blockchain, now it's becoming possible to keep digital assets to retain value as a collectible, without the risk of duplication and can be safely sold or traded online. Some may think that these collectibles hold no significant application. However, popular platforms like OPSkins are successfully indicating how NFTs are becoming valuable digital assets and collectible, and are worth more than just novelty.
Facebook Notice for EU! You need to login to view and post FB Comments!