Rumors have been flying around recently about a new HTC headset, known for now, as the Cosmos. HTC has recently released it's stand alone headset with 6DOF, the VIVE focus, which has found critical acclaim for it's ease of use, and comfort. HTC wishes to bring a similar, easy set-up experience to it's new headset as well, but combining it with the processing strength of the Vive Pro, HTC is hoping to build one of the finest, most neatly polished VR headsets to date. So what do we know so about it so far?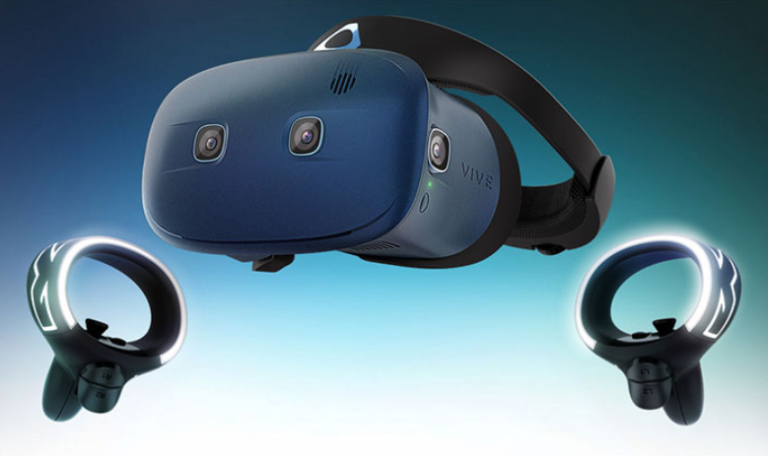 HTC recently unveiled that the Cosmos is not a standalone headset, but will in stead require a PC to run. The headset sports two (rather large) cameras on the front, along with one on  each side, giving it a total of four cameras, just like the Quest. HTC also revealed that two more cameras can also be attached to the headset on the top and bottom via a face plate. However one might ask, why not simply install the top and bottom cameras permanently to the device instead of making it an option? Just like Lou from Unbox Therapy said about moving cameras on mobile phones, we believe that more moving parts would mean more chances of 1. Losing the said parts, and 2. Damaging the said parts, as it increases the number of times it is put into movement.
HTC claims that the Cosmos will have a 2880×1770 screen, which is focused on minimalizing the "screen door" effect of previous headsets. The screen door effects refers to a certain amount of noise and pixelation in the image displayed within a VR headset, due to low resolutions. Users who have tested the prototype version of the Cosmos have claimed that it has the "clearest" screen ever to be used in a VR headset. Also boasting HTC's new tracking software, which utilizes the cameras on all sides of the Cosmos, HTC seeks to improve motion and fluidity as compared to previous HTC headsets. The display can support upto a frame rate of 90 frames-per-second as well. Unfortunately, the Cosmos, in spite of being HTC's "strongest" headset, will does not support eye-tracking and hence, does not have foveated rendering. Key point to remember is that Oculus already has foveated rendering, which enables it to display high resolution images without being a burden on the processor.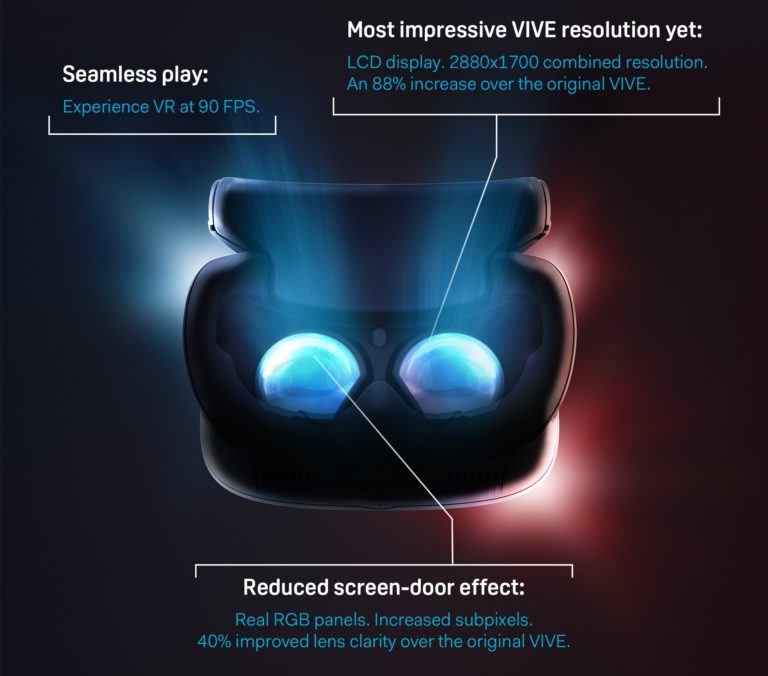 However, HTC also focuses on comfort and ease of use. HTC claims that the Cosmos will be the easiest headset to setup (which sounds great, considering many headsets ARE kind of difficult to setup).  The headset only features a single cable to be plugged in and out, and since it has internal tracking like the Vive Focus, there is no need to set up an external tracker either. The brightest innovation to the HTC Cosmos is probably the fact that the headset can simply be flipped upwards, so instead of unstrapping the headset and taking it off entirely and forcing it up on your forehead in hopes that it won't fall, you can simply flip it up and it'll stick, which honestly by this time and age, is something that should've been quite common in headsets.  We'll also be getting newly designed controllers for the Vive Cosmos, with some snazzy illumination along the sides as well. How well these controllers work and whether or not they have any extra features is still a mystery.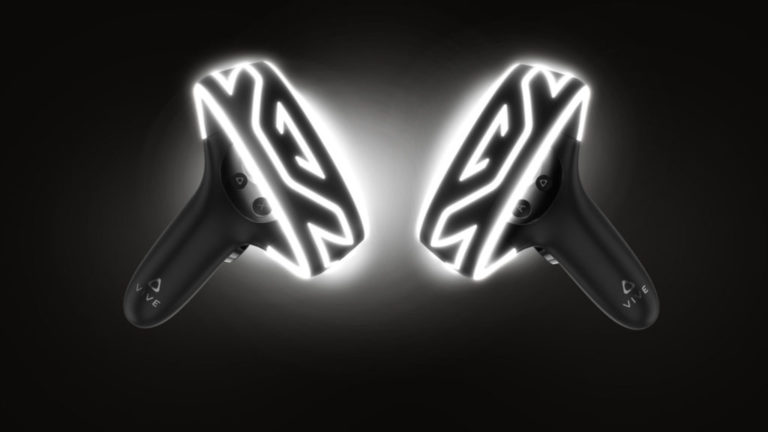 Some speculations have been made about what devices the HTC Cosmos will be compatible with. Since we already know that a PC will be required, HTC has often vaguely addressed the device's compatibility, saying "PC…and other devices". Now what do these "other" devices refer to? We'll just have to wait till HTC gives us more details. In a recent unveiling, HTC displayed a new design for the Cosmos, with the perforated face plate, and six cameras, including the attached top and bottom cameras. So far HTC has not unveiled anything regarding price, nor has it confirmed a release date. Some speculations say that the finalized product might release in Q4 of 2019, with a price range somewhere between $700 – $900. With a whopping price like that, user expectations will certainly be just as high.
Facebook Notice for EU! You need to login to view and post FB Comments!