Pacific Rim united the anime and Hollywood fans when receiving praises like "Pacific Rim is the ultimate otaku film that all of us are waiting for" from Hideo Kojima, the legend himself. The great mecha structures of Jaegers are fuel for the imagination.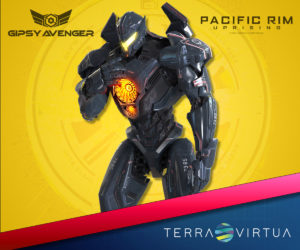 Terra Virtua has revolutionized the collection experience in the digital realm and has made it more engaging and exciting by having Brands Like Lost in Space, Godfather, and Artworks by the legendary Nick Percival, to name a few. Further Adding to the rostrum, Terra Virtua is proud to announce the launch of the Pacific Rim Uprising assets, with Life-sized 3D models of Gipsy Avenger and Kaijus along with the artworks of various Jaegers and movie stills. Head over to Terra Virtua to see the complete collection.
The Gipsy Avenger and Raijin boast attention to detail, which makes it difficult to tell apart from the movie props. Showcasing intricate details, life-like animations, and exhilarating sound, the 268 ft Jaeger and 350 ft Kaiju 3D assets can be placed in the Terradome by collectors to showcase their love for the franchise. Furthermore, Terra Virtua has also released 2D and 2D animated posters of Pacific Rim Uprising, featuring Saber Athena, Titan Redeemer, and Raijin (to name a few) allowing the collectors to have a Fancave reflecting their love for the franchise.
Facebook Notice for EU! You need to login to view and post FB Comments!